LGBT Health Initiative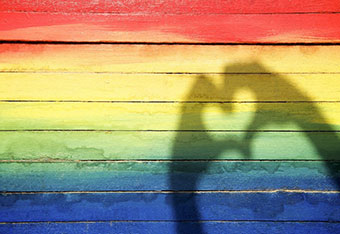 People who are lesbian, gay, bisexual, or transgender (LGBT) or gender non-conforming are members of every community. They come from all walks of life, and include people of all races and ethnicities, all ages, all socioeconomic statuses, and from all parts of the country. People who are LGBT are diverse, but have a common need for confidential, culturally competent health care that recognizes and responds to specific medical needs. LGBT people face greater health challenges than their heterosexual peers, partly because of differences in sexual behavior and partly because of social and structural inequities, such as stigma and discrimination.
LGBT Primary Care
General healthcare for LGBT and gender non-conforming patients is much the same as it is for others. The difference at STAR Health Center is that we will openly talk to you about any health concerns you may have about your sexuality or gender identity. We will make sure that you receive screenings and services you need from other providers who are equally sensitive to your specific needs. Of course you may schedule an appointment on any day that is convenient, but beginning in October 2015 the SHC will kickoff the opening of a specialized LGBT Clinic session on Monday evenings from 5:00 pm to 8:00 pm. This clinic session will be ideal for you if you would like to go at a specific time when you know that there are staff and other patients there with whom you can relate. Call 718.270.3745 or 718.270.2396 for an appointment.
High Resolution Anoscopy (HRA)
The STAR Health Center provides HRA, a minimally invasive procedure for more detailed identification, management and treatment of anal dysplasia. Anal dysplasia means abnormal cells (or a lesion) in the lining of the anal canal. It can be low-grade (mild) or high-grade (moderate to severe) and can progress to cancer. Anal dysplasia is caused by the human papillomavirus (HPV), the most common sexually transmitted virus. Around 75-80% of sexually active people have been infected with HPV, and this is much higher in people with HIV. As the incidence of HIV infection has increased in young men who have sex with men (MSM), it is expected that the incidence of anal dysplasia and cancer will increase. HRA allows us to identify and treat this disease far earlier.
PrEP
PrEP (pre-exposure prophylaxis), is a way to prevent HIV infection in people who do NOT have HIV, by taking a pill every single day. If you are an HIV-negative gay or bisexual men who has had anal sex without a condom or been diagnosed with an STD in the past 6 months you may be interested in receiving PrEP at the STAR Health Center. Read more »
Transgender Care
The STAR Health Center's LGBT Health Initiative aims to provide excellent medical care to all trans women, trans men, gender queer, and gender nonconforming persons in an affirming environment.  STAR Health Center is committed to the needs of transgender and gender non-conforming individuals and provides primary care and hormone therapy using a patient-centered approach.  Patients may receive medically supervised hormone therapy (including IM estradiol preparations and testosterone-blockers), and referrals to surgeons competent in gender-affirming surgeries.