Becoming a Patient
It is easy to become a patient at the STAR Health Center.  Just call 718.270.3745 or 718.270.2396.  The first time you call you will be asked questions about your contact information, insurance, and how you heard about us.  We may also ask you some questions to help determine the best provider to meet your specific needs. To help you and your provider make the best decisions about your treatment plan, you may be asked to come for a blood test 2 weeks before your medical visit.
Health Care Team
An entire team of medical providers, nurses, case managers, mental health and substance abuse counselors, a nutritionist, patient navigators, peer educators and clerical staff will be working with you to provide your complete care.  Once your provider is chosen, a case manager will be assigned to you to guide you through the process of obtaining all of the services you need, both at the STAR Health Center and at other agencies in the community. Please get to know your case manager's name and write down their phone numbers so you can reach them when needed.
Contact Information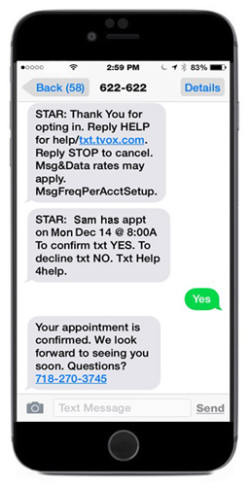 The clerical staff will ask you for your contact information during the first visit and at EVERY visit.  We ask you to please give us the BEST number to contact you.  It can be a cell or home number or a text number. It is important you always give us a working phone number, so your medical provider can contact you for issues such as follow-up of test results and appointment reminders. Please make sure to let us know right away if you have changed your address or phone number.
The clerical staff will ask you if you would like to receive text messages from the health center for appointment reminders and if we need to reach you about any care issue. We will not disclose anything about your condition in the text. It is easy to sign up for text messages:
Give us your cell phone number
Text STAR to 622622
You may also be asked if SHC staff may make home visits the event you have missed appointments, if we are unable to reach you by phone to discuss important matters related to your health, or you are unable to come the SHC and you need assistance in obtaining services.
Insurance
If you do not have medical insurance your case manager will work with you to get suitable insurance. Please provide the necessary papers needed for processing the insurance on time in order to avoid delay in getting medical care. It may be difficult to get some services and medications without medical insurance.
Registration and Medical Records
At your first visit, you will be given written information on our HIPAA policies.  You will be asked to sign a consent for treatment as well as a release of medical records form so we can get your medical information from other health care providers. This medical information is essential for continuity of care.  Please let your case manager know if you are working with outside case managers and medical providers so we can communicate with them to ensure you receive all of the services you need.
Language and Special Needs
We have staff that can help you if you speak other languages or need special assistance for issues such as vision or hearing.  Staff in the SHC speak several languages including Spanish, French, and Haitian Creole as well as others. Please let the clerk at the front desk know of any special needs you require when you register.  We will make every effort to accommodate special needs.  If we feel we are unable to provide you with the best care, we will help you find a provider that is better able to provide you with the services you need.
MetroCards
You may be able to receive a MetroCard on the days of your lab work, medical or mental health appointment in the SHC.  You will be given a paper slip, and you will go to the Cashier Office located in the elevator banks on the first floor near the Lenox Avenue entrance to get the MetroCard. The office closes at 4.30 pm, so remember to collect your MetroCard before the office closes. The distribution of MetroCards is a special service of the SHC. Metrocards are not given for any other clinic visit or for prescription pick up.