STAR Health Center Outreach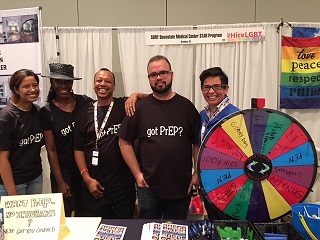 As a health care leader in Brooklyn, the STAR Health Center (SHC) uses a variety of venues to provide education and outreach to the community on ways to get healthy and live healthy. Every year, particularly in the spring and summer months, SHC staff and peer educators collaborate with other organizations at community events to provide information on issues such as HIV, hepatitis C, PrEP/PEP, substance use, harm reduction, nutrition, asthma, and hypertension.  The SHC also conducts outreach via social media (including the STAR Program website, Facebook, Instagram, Twitter, YouTube and LinkedIn) and via linkage with community-based organizations in Brooklyn. All outreach efforts are targeted towards subpopulations at high-risk of acquiring HIV, including minority men and women, MSM and transgender women, patients with a history of substance use disorders, and reentry populations. Most recently, our outreach has focused on reaching out to LGBT and gender non-conforming communities in Brooklyn who have historically been underserved. Specific activities in the past two years have included:
Participation at the Brooklyn Regional End the Epidemic Steering Committee meetings.
Meetings with the Crown Heights Urgent Care Center to facilitate mutual referrals, and with Brightpoint Primary Care and Day Treatment Program to discuss mutual referrals to their day program and to SHC's HIV care and PrEP programs.
Participation at the NYCDOHMH STD Control's Second Sexual Health Advisory Group (SHAG).
Participation in the Queensboro Resource Fair for >400 inmates preparing for release and provision of outreach and education at Edgecombe Residential Treatment Facility, a minimum security correctional facility, providing substance use treatment.
Participation at the Brooklyn kick-off meeting of NY Links, a HRSA/SPNS-funded initiative, focused on bridging systemic gaps between HIV-related services within New York State to achieve better outcomes for persons living with HIV/AIDS through improving systems for monitoring, recording, and accessing information about HIV care in NYS.
SHC staff gave a presentation on HIV and PrEP/PEP services to domestic violence case managers and social workers from 12 Brooklyn agencies at the Family Justice Center.
Participation in the Brooklyn Pride Festival and Parade in an effort to introduce LGBT communities to our expanded health care services.
Participation in PRIDE 2020: LGBTQ Civil Rights!, a town hall meeting about LGBTQ rights and equality over the next four years.
An educational presentation by a SHC physician on PrEP and PEP at Brooklyn Community Pride Center.
SHC staff hosted staff from Bridging Access to Care's Brooklyn Men Konnect to implement a linkage agreement and discuss each other's programs.
The SHC hosted a Transgender HIV Testing Awareness event in the SHC.
The SHC hosted a meeting with GMHC's Policy Director to obtain technical assistance on MSM and transgender issues; CAMBA's MSM and Transgender Prevention staff also attended.
A SHC staff member was a panelist at a forum at the Brooklyn Public Library discussing major steps forward to secure trans-inclusive health insurance coverage in NYS.
SHC staff gave testimony at a Brooklyn Forum on the needs of Transgender and Gender Non-Conforming people sponsored by the Anti-Violence Project and the Audre Lorde Project and at The Changing Landscape: An LGBTQ Health Summit, sponsored by the LGBTQ Health Equity Coalition of NYC.
Collaboration with CAMBA, one of our longstanding community-based partners, on their float at New York City Pridefest to promote LGBT services throughout Brooklyn.
Participation in Bushwick Pride. Brooklyn's Bushwick community has traditionally been a neighborhood of predominantly Latino and Black populations where LGBT citizens have created thriving communities. Events have focused on transgender rights, increasing visibility in the LGBT and HIV-affected communities and promoting social justice in the neighborhood.
Participation in Bed-Stuy Pride at Herbert Von King Park to celebrate communities in central Brooklyn. Since 2011, the Audre Lorde Project's Safe OUTside the System Collective has hosted Bed-Stuy Pride, reinforcing the theme of challenging hate as well as calling attention to police violence.
Partnering with community agencies at these events has been especially fruitful, allowing us to share resources and to demonstrate to the community that we are all working together. If you represent an agency and would like to partner with us at an event or if you would like to be added to our links to community-based agency websites, please contact us at staroutreach@downstate.edu.