STAR Health Center Outreach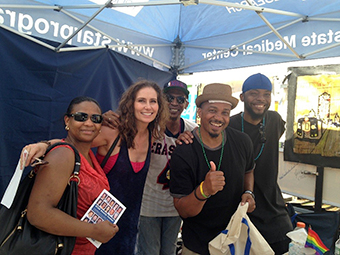 As a health care leader in Brooklyn, the STAR Health Center uses a variety of venues to provide education and outreach to the community on ways to get healthy and live healthy. Every year, particularly in the spring and summer months, SHC staff and peer educators collaborate with other organizations at community events to provide information on issues such as HIV, hepatitis C, substance use, nutrition, asthma, and hypertension. Most recently, our outreach has focused on reaching out to LGBT and gender non-conforming communities in Brooklyn who have historically been underserved. Specific activities in the past two years have included:
Participation in the Brooklyn Pride Festival and Parade in an effort to introduce LGBT communities to our expanded health care services.
Collaboration with CAMBA, one of our longstanding community based partners, on their float at New York City Pridefest to promote LGBT services throughout Brooklyn.
Participation in Bushwick Pride.   Brooklyn's Bushwick community has traditionally been a neighborhood of predominantly Latino and Black populations where LGBT citizens have created thriving communities. Events have focused on transgender rights, increasing visibility in the LGBT and HIV-affected communities and promoting social justice in the neighborhood.
Participation in Bed-Stuy Pride at Herbert Von King Park to celebrate communities in central Brooklyn. Since 2011, the Audre Lorde Project's Safe OUTside the System Collective has hosted Bed-Stuy Pride, reinforcing the theme of challenging hate as well as calling attention to police violence.
Partnering with community agencies at these events has been especially fruitful, allowing us to share resources and to demonstrate to the community that we are all working together. If you represent an agency and would like to partner with us at and event or if you would like to be added to our links to community based agency websites, please contact us at staroutreach@downstate.edu.