Adolescent Education Program
The Adolescent Education Program (AEP) is one of SUNY Downstate's earliest outreach and prevention programs, empowering youth to achieve and maintain good health, set and achieve academic goals, and serve their communities since 1989.  The AEP, targeting ages 10-24, provides education regarding HIV prevention, teen pregnancy, and substance use through skills building and counseling to youth at risk.  Central to AEP's success is Teens Helping Each Other (THEO), which trains a cohort of adolescents to become peer educators through its annual Summer Training Institute.  After a rigorous 76 hour training, peers participate in a wide array of initiatives.  See www.theoprogram.org for more information. In addition, see THEO Adventures, a blog platform for teens in the THEO Program to speak, influence, share, delight, and change the world for the better. It is also a platform to express the voices of teens.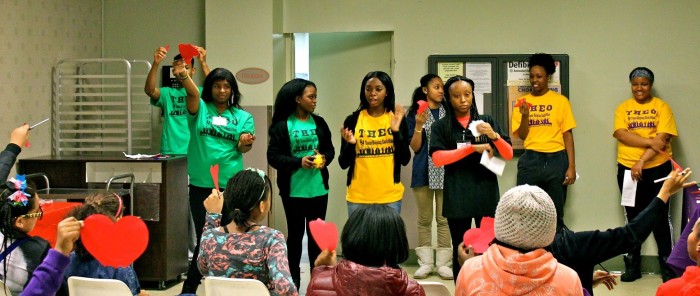 Pregnancy Prevention
THEO provides pregnancy prevention information using two evidence-based curriculum interventions for young people between the ages of 14-18.  Sisters, Informing, Healing, Living, & Empowering (SiHLE) is conducted in after-school and school based settings.  Be Proud Be Responsible (BPBR) is a five hour intervention aimed at preventing HIV and other STIs among adolescents.
Youth Advocacy Outreach Project
Peer Leaders conduct workshops for peers in the community on various social topics including HIV/AIDS Information, Counseling & Testing, Violence Prevention, Teen Sexuality & Relationships, Self-Esteem Building and Youth Advocacy.  Street Outreach is conducted to distribute literature and barrier protection methods to community adolescent residents.
Peer Leadership Initiative (PLI)
The PLI focuses on providing support to young people through leadership, community engagement, and community change. PLI utilizes the evidence based intervention SISTA: Sisters Informing Sisters About Topics on AIDS to educate young women at-risk for HIV/AIDS and sexually transmitted infections.
Social Drama/Theater Project 
Peers use improvisational theater techniques. interactive games, songs, raps, poetry, dance and plays to effectively educate their peers about methods of prevention and healthy decision-making skills.
Brooklyn Association of Teen Educators
This network was established to encourage service providers and Adolescent Education groups in Brooklyn to work together on community projects that service at-risk youth.  BATES sponsors an annual conference for adolescents each year to empower them to work towards positive goals in their lives.