August 31, 2017 11:12 am
Leave your thoughts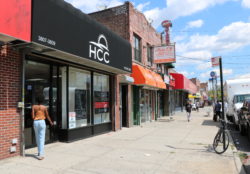 The Haitian-American Community Coalition works out of a big sunny room on Church Avenue in Flatbush, Brooklyn. Cubicles and offices cluster near the front door. Tables and sofas quietly stretch out on the far side.
But every Wednesday, 150 women walk in for a free, two-hour Zumba class taught by a certified instructor. The tables fold up to make room for the HCC's popular BKFIT program, at least until the renovations are finished at St. Paul's Church in Brooklyn.
"If you're not fit, then other things start to go awry," Mark Kornegay said. "Fitness can trickle down into your life. The women are getting fit, losing weight, forming bonds. They continually come back."
The non-profit HCC was formed to be a hub of help and community, said Kornegay, LGBTQ Community Mobilization Project Manager for the HCC. The organization provides everything from the BKFIT program, to a trauma center, education on sexual health and domestic violence, HIV testing, supportive housing for eligible people living with HIV, and adult literacy.
Mark Kornegay's mission is reach Brooklyn's Haitian LGBTQ community. He became involved with New York Knows, which offers HIV testing to all New Yorkers, to make connections in the field, and takes every opportunity to test in the community.
Events hosted by the HCC have brought the LGBTQ community to the center.
"I've done two screenings, the first of which was 'parTy boi,' which talks about crystal meth's decimation of the black and Latino MSM (men who have sex with men) communities," Mark Kornegay said.
The room was packed with around 35 from the transgender and MSM communities.
"And some that were using crystal, so it was really powerful," he said.
To lighten the mood, they also screened Kiki, a 2016 documentary about the house ball community. The screening was a hit.
"We have the TV, we have the sound, we have this space, we have a living room atmosphere," he said. "We have central air, in the winter we have heat. We have food. People seem to like it here."
Visitors remarked, "I didn't know the HCC was here!" Since the screenings, they've been back.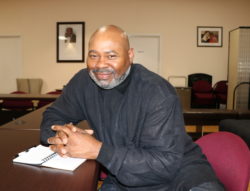 Services

FITBK offers free weekly aerobics and core strength training sessions, and reoccurring 90-Day Fitness Challenges led by certified instructors. Stay for cooking demonstrations and nutrition education classes. Check out the HCC website for more information.

The trauma center at HCC, in partnership with Global Trauma Research, provides culturally competent counseling for psychological trauma. The services are available for individuals and groups, in English, Haitian-Creole and Spanish.

The Housing Placement Assistance program connects eligible people living with HIV/AIDS with one and two-bedroom family units. Services include case management, recreational counseling, tutoring, nutrition education, mental health services and more.

The HCC also offers a free English as a Second Language (ESL) class for adult literacy, and document translation.
The STAR Program operates just down the street at SUNY Downstate Medical Center. Click here for more information on our unique LGBTQ services.

Tags: Brooklyn, community, Haitian-American


Categorised in: News

This post was written by suny-admin